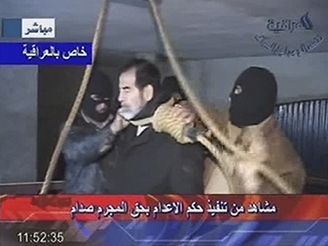 Dvě poznámky:
1. Nechápu, jak se mohou evropští státníci vyjadřovat k tomu, jestli měl nebo neměl být Saddam popraven. Je to záležitost iráckého práva. A pokud akceptujeme, že byl Saddam shledán vinným (střikem), musíme akceptovat, že podle iráckého práva dostal trest smrti durch den Strang.
2. "Mnozí z těch, co žijí, by zasluhovali smrt. A mnozí z těch, co zemřeli, by zasloužili žít. Můžeš jim snad dát život? Tak nesuď kdo má zemřít a kdo žít."
~ J. R. R. Tolkien ústy Gandalfa
Tenhle překlad se mi ale zdá být docela zparchantělým, protože ve skutečnosti Gandalf říká:
Many that live deserve death. And some die that deserve life. Can you give it to them? Then be not too eager to deal out death in the name of justice, fearing for your own safety. Even the wise cannot see all ends.